Liberty Lobby Linked to Would-Be Child Pornographer
March 25, 1999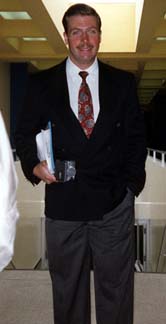 Cancelled checks show that Liberty Lobby funds have been used to support Joe Fields, a long-time associate of Liberty Lobby treasurer and CEO Willis Carto, even after Fields was convicted on five counts of child annoyance.
As reported in The Daily Breeze (Torrance, California), Fields was arrested in March 1996, following complaints from nine girls, ages 12 to 16.
The alleged incidents occurred from February 5 to February 14, 1996. When interviewed separately, each girl told police that while walking home from school she was approached by a man in an older model white car. The man asked them to appear in a pornographic movie, in some cases offering them $1,000 to do so. The car was described by several of the girls as dirty inside and littered with food wrappers, clothing, pornographic movies, and pornographic magazines. One threw a cup of Coke at the suspect. None of the girls agreed to participate.
When police checked the license plate number provided by several of the girls, they found it was registered to Fields. All of the girls subsequently identified Fields, when shown his driver's license photograph along with those of five other men of similar appearance. Fields was arrested and charged with nine counts of child endangerment. Police searched his home, and seized five pornographic videos. (The Daily Breeze, March 30, 1996)
In August 1996, Fields pled no contest to five of the nine charges, and served three months.
It is not known how Fields supports himself, or who paid for the two attorneys who represented him in this matter. This had led to speculation that Fields is being funded, at least in part, by Carto and/or Liberty lobby.
These suspicions now seem to have been confirmed with the discovery of two Liberty Lobby checks — number 2006 dated April 7, 1998, and number 2111 dated May 7, 1998 — made payable to Joe Fields and deposited into a bank account in southern California.