Willis Carto — Where He Lived
According to stories Carto had published in his tabloid, The Spotlight, this sprawling mansion with its grove of fruit trees and panoramic view was the "west coast office of Liberty Lobby." If you were a Southern California subscriber to The Spotlight, you should have dropped in at the "west coast office" and see how they were doing. (Both offices are now closed.) Hope you kept your eyes peeled for their German Shepherd guard dog, though!
You can also read a description of the "west coast office of Liberty Lobby" in the search warrant used in the raid on Carto's estate.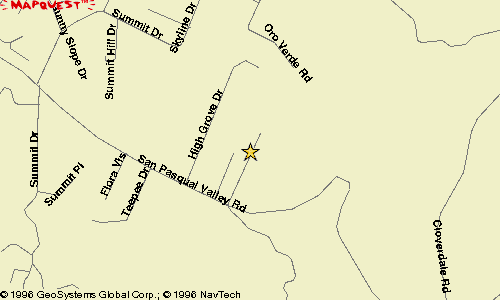 We may never know if this is simply irony or if Carto planned it this way, but his estate was located at what is referred to locally as "Rancho Rincon del Diablo," which translates to "Devil's Corner Ranch." Some coincidence, huh?
Residence mailing address
PO Box 28802
San Diego, CA 92198
The Cartos used to claim that this property was owned by the Herford Corporation. Elisabeth Carto was born in Herford, Germany. Some coincidence, huh?
Other mailing addresses
PO Box 1248 and 1306, Torrance, CA 90505
4009 Pacific Coast Highway, Box 412, Torrance, CA 90505 (this is a mail drop)
Prior to moving to the Escondido area, Willis and Elisabeth lived for roughly eight years in a condominium at 32646F Coast Site Drive, Palos Verdes, CA 90274.